Testimonial Tsuwann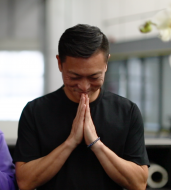 Muay Thai is a beautiful sport. It's a total body-mind workout that has given me so much back in many different ways. I highly recommend this sport. Robert is an "one-of-a-kind" trainer. His methodology and his teaching style are both serious and fun. You learn a lot and you see your own
transformation. This deserves another recommendation by its own. Add these 2 elements together.
You get a very authentic dojo with a nice group of trainees. Always ready to work hard. Always nice atmosphere. Super!